Charging a phone once in a week! -Well, it's a dream as of now. Do remember that you are using a power-packed smartphone, not an old Nokia 1100 or 3315. Those days were gone! Well, I do accept that smartphones nowadays are coming with bigger batteries for better backup. Top brands like Xiaomi, Samsung, Lenovo, etc., are packing their recent and upcoming smartphones with a minimum of 4000mAH batteries inside them. But even, End of the day you need to plug-in your device! Chances are your devices charge gets down because of heavy usage when you are at the office or when you are out! In these cases, power banks come into action! Firstly, what are power banks? And how to select power banks? So, let's check the post of best power banks under 2000.
Power banks have a Lithium Ion battery inside So that it can charge your smartphones or tablets. Or else, A battery that can flow power with a special casing around it! That's how I can explain power banks to Non-Techy guys! Technically, to charge your device with power bank, you need to charge Power Bank first! It's obvious. Power banks these days or coming with change indication lights or rarely power banks with screens can be seen. You need to charge until its full.Say, most of the power banks comes with four lights for indication of charge available in power bank. Charge it until you see four lights blinking. That's enough! You can charge your smartphones on the go.
Best Power Banks under 2000
Best Power Bank under 2000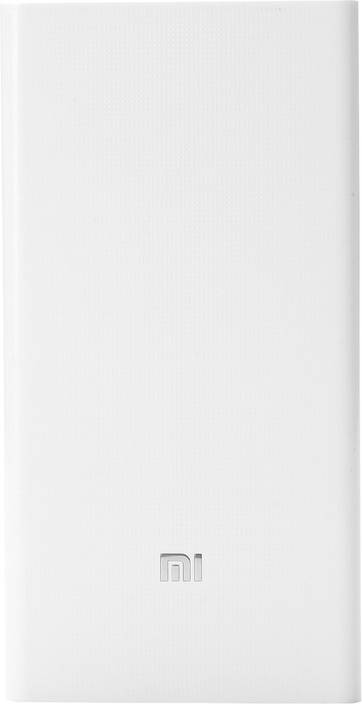 This product comes from Xiaomi. It's light weight, sturdy and portable enough to carry anywhere you go! As its name suggests it packs with 20000mAh Lithium-ion polymer battery, and it also comes with dual charging ports which are a great thing. With dual ports on a power bank, you can charge two of your devices, say two phones or one phone and camera or any other device that have support to charge from USB port! Rather like other power banks in this range, this power bank changes up lightning fast, and it can also charge your smartphones fast than what a basic 10000mAh power bank does!
You may think it has got a big 20000mAh inside so that it may weight more than an ordinary 10000mAh power bank. No, it's not like that. Well even I accept that it will be flat and bigger than general power banks, but it's not that bulky! I won't even say its very light as a piece of plastic, but it's physically distributed. Xiaomi stated that they had used PC + ABS casing to balance weight! This power bank has got some protection on it which protect from scratches. But nothing always stays new, as it comes in white color it can get stained easily! In our day to day usage, we ended up cleaning it with some soap solution to get back that new glossy look! As I previously said it could charge devices fastly which has fast charge support, output at 5.1 V/ 3.6 A. It is compatible with all the smartphones out there. It also packs with 318 mm tangle-free charging cable which is soft and durable too.
Key Specifications
| | |
| --- | --- |
| What's Inside Box | Power Bank, USB Cable, User Manual |
| Charging Cable Included | Yes |
| Output | 5.1 V |
| Features | 2x USB Ports, Reset Mechanism, Anti-Slip, Scratch Resistance, Heat Resistance |
| Weight | 338 grams |
Best Power Bank Under 1500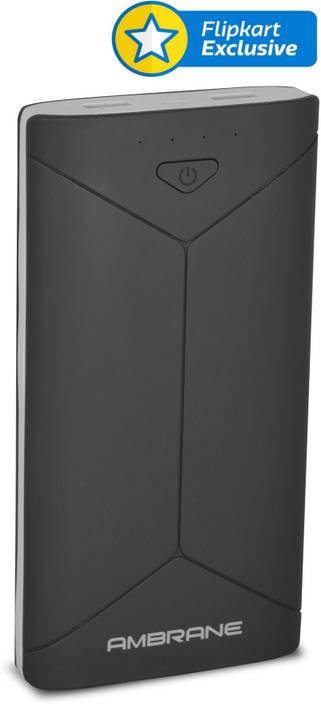 | | |
| --- | --- |
| Check the Price | |
Well, After seeing this power bank second in the list…obviously you may think, Ambrane Really? It is a Brand or what? That's what you think! Ambrane is an India Gadget brand; they are leading power bank manufacturing company in India. Not only power banks then make tablets, Bluetooth HeadPhones, and Speakers and much more. Apart from speakers and stuff lets discuss on power banks itself! As this article is about power banks!
Yes, it houses 16000mAh of the lithium-ion battery inside. Unlike Mi 20000mAh power bank, it's not evenly balanced. It's damn heavy at 472 grams! You may feel like carrying a rock with you. For girls, it comes handy to hit someone on their faces. Jokes apart, if you compromise on weight it's perfect power bank out there. It comes in two colors, Black and White. Like the Mi 20000mAh power bank, it does have dual ports for charging. So that you can charge two of your devices, say two phones or one phone and camera or any other device that have support to charge from USB port! For boys, it's really hard to maintain this power bank as its heavy and it's hard to squeeze into your jeans. The Output 1 is at 5V/2.1A coming to Output 2 its 5V/1A.
All I can is if you are strict and stuck to budget below 1500 bugs or something like that, just go with this Power Bank. If you can afford check-out MI 20000mAh power bank. See, when you are buying power banks, you need to compromise at least on one thing. Say it may be styling, weight, colors, compactness, etc., you can compromise on any of these aspects but not on capacity or brand. If you are just a brand guy, I bet you; no brand offers 20000mAh or 15000mAh at least at this price points. So just go with reviews or stick to brands itself!
Key Specifications
| | |
| --- | --- |
| What's Inside Box | Power Bank, USB Cable, User Manual, Warranty Card |
| Charging Cable Included | Yes |
| Output | 5V |
| Features | No Extra Features |
| Weight | 478 grams |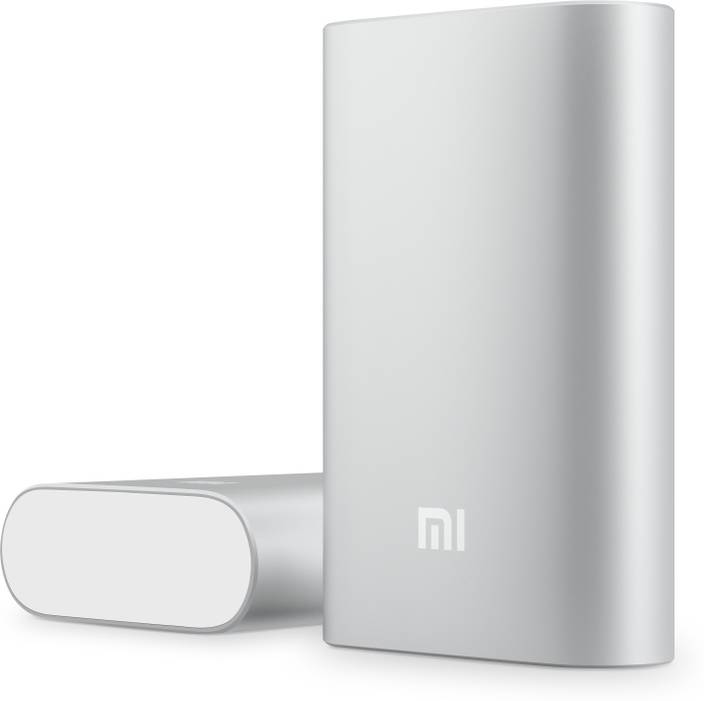 | | |
| --- | --- |
| Check the Price | |
Now you may think, why Mi came into the list again? You really can't find a power bank like this under 1000 bugs in India. It may not be sleek, but it is truly compact. It's in the size of your Pan Card or Visiting Card. It goes easily into your pockets. They have used advanced 735 Wh/L Polymer cell technology by Panasonic. It can charge 3000mAh device a good three times which is a great thing at least for a 10000mAh power bank. In our day to day usage, we never faced an issue with this power bank. It tends to heat up a little bit while using this connected to the phone and when the phone is pushed to use!
It automatically adjusts its output depending upon the device its connected to. It only has one port! The casing is made of aluminum which is not a case with the 20000mAh power bank which is made with some sort of plastic from the same brand. It's even waterproof up to some extent, proved in our testing! It has smooth curves which make holding this power bank easy for those who carry it with hands in cases!
Key Specifications
| | |
| --- | --- |
| What's Inside Box | Power Bank, USB Cable, User Manual |
| Charging Cable Included | Yes |
| Output | 5.1 |
| Features | Water Resistant, Aluminium casing |
| Weight | 207 grams |
| | |
| --- | --- |
| Check the Price | |
This power bank comes to us from Lenovo. Its capacity is 13000mAh. Well, it is also a great power bank at its price point. After unboxing it, Well nothing's that surprising with it. But the place where I fell in love with this Power Bank is Build. It's surprising new. Almost all the power banks are identical to each other at least at one or two aspects. But, this changes the entire way of thinking of mine. Yes, it is slim compared to other power banks. It's convenient to carry in hands, but not in pockets, at least while biking. Well, it does have two ports. Both of the ports sports fast charging at 2.1 amps. Lenovo said that 3000 mAh smartphones could be charged six times with this power bank. Hell yes, I can't believe how but it charged my 2600mAh devices five times but not six if I recall.
Buying this power bank is not badest of things, but it is priced at little higher I should say! As Ambrane P-2080, the second power bank on our list was priced at 1,300 rupees. Yes, it is a heavy and small brand. But, in this case, I will pick Ambrane P-2030 itself.
Key Specifications
| | |
| --- | --- |
| What's Inside Box | Power Bank, USB Cable |
| Charging Cable Included | Yes |
| Output | 5v/2.1A |
| Features | No special Features |
| Weight | 400 grams |
Before starting this, if you are looking for a power bank of 10000mAh or above keep away from this one. This power bank is brought you by Motorola. Okay! Let me clear this is not exactly a power bank what you think of. This one is not suitable for extreme users, and this contains 1500mAh battery which can charge your device for that moment. It is identically small in size of a matchbox. You can also use this as a keychain for your home keys or something like that!
No USB is required. It does have a micro USB at the top. You need to connect it with your phone. You can pair this power bank with your smartphone with an application called Moto Connect. After you connect with your smartphone if you lose it you can find it with some sort of sound, says Moto.
Key Specifications
| | |
| --- | --- |
| What's Inside Box | Power Bank, USB Cable, User Manual |
| Charging Cable Included | Yes |
| Output | 1Amps |
| Features | Application Control, Colourful |
| Weight | 50 grams |
Conclusion
That's all for this article on best power banks under 2000. Hope You guys chosen A Power Bank for your needs. Keep visiting our site for more articles, just like which you read above!! Well, even you will forget that we exist in here. Remember!
You've got devices! We've got tricks and updates! Why not follow us?
Like us on Facebook Follow us on Instagram Subscribe our channel
Share this article with your friends and family and let them know that we are still existing!
You guys have a Great Day. Bye for Now!